Insight with Moira Dean - Premier Store Manager @ Dundee University Student's Association
We work with all types of independent business owners, retailers, buyers and outlets just like you. With years of experience, we're able to work with our customers to understand their specific needs, matching them with innovative and cool new brands.
We love to share standout retailers who've taken a calculated risk and decided to do things differently and made a success out of doing so. In this instance take Moira Dean, Manager of the Premier store at Dundee University Students' Association, who has worked with us for over 4 years, running the largest student union store in Scotland at over 2,300 sq ft.
A 5-year expenditure plan quickly saw returns back on the investment after just 2 years by creating an identity and taking a calculated risk. Recently awarded by the Scottish Grocers Federation, (SGF) as Sustainability Champions and Innovation in Impulse Champions 2020.
The store is up for 3 further awards - Scottish Local Retailer (SLR) awards Sustainability Champions Licensed Alcohol Retailer of the Year Chilled and Frozen Retailer of the Year. But where did these successes come from?
Being at the Heart of the Community Matters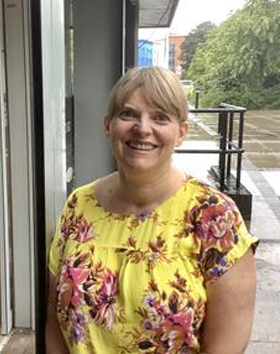 Moira's background came from outside retail. She was (and still is) a passionate long-term diver, recognising the impact and importance of the battle against plastic waste. Seeing first-hand damage caused by plastics in the oceans, Moira knew by running a student campus store, her target market was often part of the problem of littering, in no small part due to the lack of plastic-free snacks and drinks available on campus.
The shop is a social enterprise meaning any profits are reinvested back into the store and student community. Surrounded by Lidl, Sainsbury's and Tesco, she knew the store must differentiate its offering to become a success.
As an example of this ethos, whilst the store was closed over the summer, the team stayed to pack care packages and deliver them to the overseas students trapped on campus by lockdown restrictions. With those working from home and online learning, only 1st-year students and oversea students were coming in-store with the site 70% down on normal trade.
"However this store is at the heart of the community - the local campus - and certain things can transcend daily business. Success stems from making a memorable impact".
Going the extra length, Moira and the team helped organise support for students who were facing financial hardship or isolation and continued to do so with more packages being put together for distribution over several weeks.
Becoming an Independent Retail Destination for Customers
Convenience retail is changing and these changes have only accelerated from the impact of Covid-19. The key to unlocking success in Moira's opinion is to be "seen as ahead of the curve". Coming in to store with fresh eyes has helped create an identity of a 'real store' which moved away from stationary, sweets and booze, taking the opportunity from her audience to seize the demand for healthier, gluten-free and more sustainable snacking brands.
Making the store bespoke to the university and Dundee area. In her words 'tailor making' welcomes the support Epicurium has contributed towards this. The majority of our products feature in the 'Healthy' and special dietary sections. It's still a challenging time in store - admittedly things aren't likely to return to normal until the start of the next student year - but Moira wants to be active in trying new ideas.
Trusting a Snack Wholesaler like Epicurium
What do Moira and the DUSA Supermarket enjoy by partnering with Epicurium? Well let's start with the service - the speed of delivery means no problems having to fill gaps on the shelf quickly, finding us in her own words "easy and not at all complicated to work with".
Personal customer care is appreciated with the fact that Moira can always put a name to a voice and really feels valued by our Sales Executives.
Add to this the fact we actively source plastic-free brands and appreciate the support in finding new and innovative formats, especially on topical trends set to grow in 2021 - sustainability culture, more inclusive free-from options and the less is more mantra. Moira welcomes how in-tune we are with her personal views on plastic waste and understands how we test and trial challenger brands and new ranges on a regular basis.
Advice for Fellow Independent Retailers
Lets keep it short and simple. Moira's advice is to know your customers – you have to match products with what they want, not what you want.
"Be brave by adapting to evolving times and challenges. Dynamics have changed in retail and those that take a calculated risk will prevail. You can't stand still despite tough times because of the pandemic".
Coming in from the outside and a different industry, as Moira says "Fresh eyes" are always best. We recommend you can use this mindset to remember not to get stuck in old ways and to always try something new.
---
Order Todays Trending Snacking Products With Epicurium
Whether you are stocking up for a full healthier snacking bay, or looking to develop your snack-box, a wealth of healthy and trendy snacks awaits! With a quick turnaround of 24-48 hours and no minimum order, click here to register an account with Epicurium
---