Research, Engage and Listen to Customers
Retailer Insight with Kieran Tierney – Director @ Dandy Snacks Ltd
It all started out as a bit of a lockdown hobby to be honest! We only launched in May 2020. Initially launching The Dandy Snack Club from my garage with the house becoming somewhat of a warehouse! We took the plunge to move to a more suitable commercial premises in November. I remember we were so nervous making our first order of £192 in case we didn't sell anything, but now 7-8 months later, we're ordering 2-3 pallets worth of snacks every week.
From Day One we also pledged to make a donation from the sale of every snack box to charity and this has allowed us to donate well in excess of £2,000 to charitable causes in recent months - something we are really proud of and something our Dandy Snackers should be too!
Tips on Becoming Successful
I think it's all about having a USP and offering what customers want, not necessarily what you think they want. When we were doing market research pre-launch, there were lots of snack box businesses out there, but they were all either a) very cold and corporate, or b) offering the same type of snacks that you could pick up in your local supermarket.
With The Dandy Snack Club we wanted to create a real community that we can engage with (and learn from!).
Without honest and open feedback we can't improve our offering - whether that be packaging, promotions or indeed the product! We quickly learned that they want something new, unique, exciting and dare I say... unusual.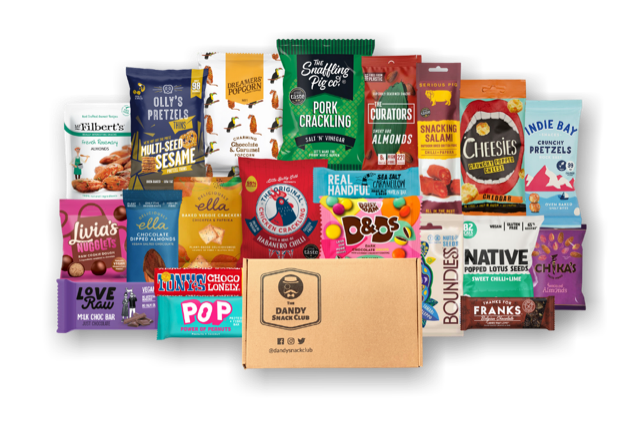 Getting the Right Products Quickly
Variety is key for us as a business and matters to our customers. Dandy appreciate Epicurium has a very healthier orientated range, so finding those type of product from them is easy.
Getting the best flavour and diversity in our range is the most important factor for choosing new brands. Sometimes this means we deal directly with challenger brands to get their products before they persuade wholesalers like Epicurium to give them a shot. Once Epicurium has the product I want, this makes life easier as we can consolidate orders, keeping the number of deliveries to a minimum.
The quick turnarounds (often next day delivery) and low minimum orders were a blessing, especially in the very early days. That allowed us to order just a box at a time via courier to ensure there was zero wastage, but also gave us the flexibility to benefit from a quick turnaround if we got a big corporate order in, for example. This was the main reasons Epicurium soon became one of our three main suppliers (and still is!).
Working Alongside a Healthy Wholesaler
How well do you engage with customers? Might now be the time to reflect new trends in your product range? As experts in healthier, cool snacks and you can learn more about what we offer on our website. With independent brands stealing a march on the more established brand names, we have the right balance of challenger, high growth and innovative snack brands. We've created a curated snack range to help you become a success, just like Kieran has enjoyed working with Epicurium.