The Rise of Low Calorie Chocolate Bars: Satisfy Your Customers Sweet Tooth
Whether it's for weight loss, wellness, or dietary limitations there's never been a bigger demand for low calorie chocolate bars. Consumers are learning quickly that they don't have to settle, with 74% saying they can't imagine a world without chocolate* - well they don't have to - 85 percent of consumers eat at least one snack per day for indulgence.
If you're a self-proclaimed chocoholic, you know what it's like to have that sweet craving, followed by the sheer joy of unwrapping a bar of the good stuff. However, with the rising awareness of the importance of healthy eating, consumers are looking for more than just that sweet fix in their daily treat or snack.
Premiumisation combined with health claims like low calories are driving category growth*
Premium confectionery grew at 15% YoY vs just 5% for total branded confectionery
45% of UK consumers are looking for healthier snacks that taste great
58% of consumers buy extra confectionery to try something new
*Source: The Grocer, Snack Report 2021
Why Does Calorie Counting Matter to Shoppers?
Calorie intake is one of the biggest factors consumers consider when shopping for snacks and chocolate. With the growing awareness of health ailments like cardiovascular diseases, and obesity is being triggered by the intake of high-calorie products, consumers are opting for low-calorie snacks that support a healthy lifestyle whilst satisfying their cravings.
For reference: Low Calorie = 40 calories or less per serving; Moderate Calorie: 100 calories or less per serving.; High Calorie: 400 calories or more per serving.
We all know getting through a day without a snack is like getting through a day without checking your phone - nearly impossible and rather boring. The covid crisis has accelerated the demand for personal well-being, as well as increasing healthier snacking opportunities. That's why you need to know shoppers will be seeking healthier, low calorie snacks to grab when they need a fix to satisfy those cravings, keep them full, and clock in at 100 calories or less.
They still want their chocolate, but they are demanding less calories. Take a brand just like Flower & White chocolate coated meringue bars. Their promise is to deliver the flavour and satisfaction but without the excessive intake of calories. Shoppers are seeking healthier, low calorie snacks to grab when they need a fix to satisfy those cravings, keeping them fuller for longer, and clocking in at 150 calories or less which don't short on the taste.
Alternative Low Calorie Chocolate Bars - Flower & White Bars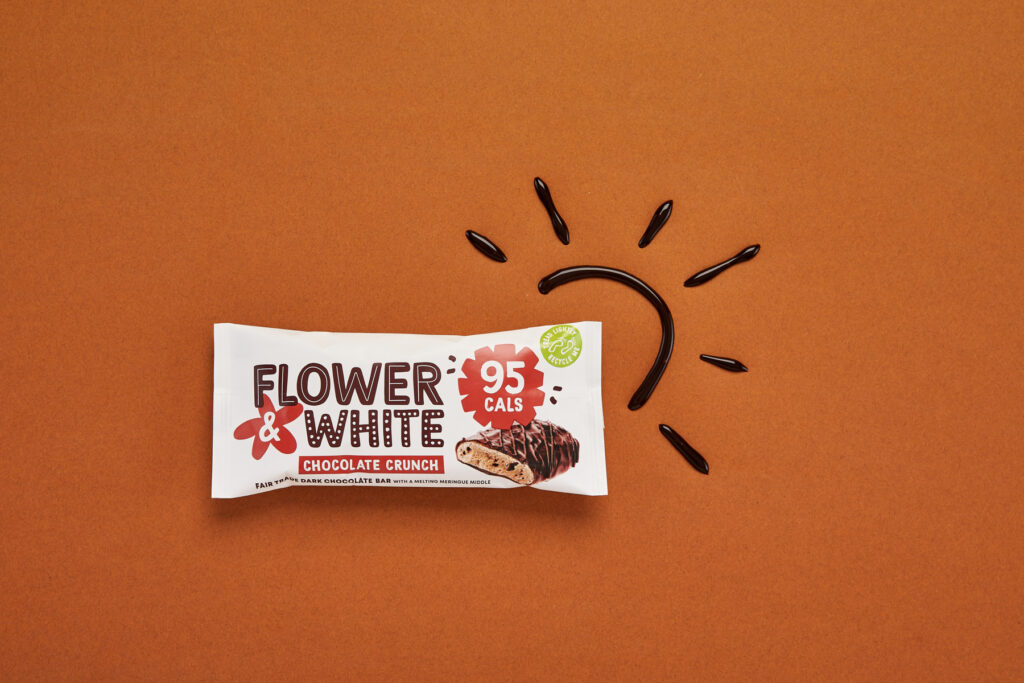 The award winning Meringue Bars come in at a minimal 95 calories per bar. They're smothered in a coating of luxurious, high quality chocolate, with a crisp meringue filling. Made with all natural ingredients, they're also gluten free and suitable for vegetarians.
One of the big driving factors to look for is the variety of flavours and delicious ingredients that are changing the face of savoury snacks, from the including the growth of plant-based .
Even plant based diets can have a bite of the action with our new award winning vegan Meringue Bars in Double M*lk Chocolate and Chocolate Dipped Strawberry. Did we mention they're just 95 calories per bar?! Flower & White have got low calorie snacks nailed. It's time to pick your flavour.
---
Learn More About What We Offer at Epicurium
As experts in wholesome snacks, the team at Epicurium have curated an range of best in class healthy snacks designed to help you grow your business - click here to request an account
---