Why Shoppers Expect Affordable Food Luxuries - Guest Insight with Joe & Sephs
The evolution of in-home occasions due the COVID-19 pandemic is likely to have a lasting effect. The Big Night In occasion in particular, will provide retailers with continued opportunity to drive footfall and revenue. There still remains high demand for premium lines as consumers look to replicate night out experiences.
In-home occasions focused on winding down and quality time are growing amongst consumers – faster in fact than any other at-home occasions (Kantar). A well merchandised 'big night in' display with paired products and cross-category promotions will always encourage incremental purchases and help drive profit. Now is the time to seize this opportunity further and enhance your range.
With varied levels of restrictions still likely to be in place for the first half of the year, we expect food-to-go missions to continue to be suppressed and the preference for take-home products to remain.
With this trade-up for something premium and rewarding, gourmet confectionery ranges are the ideal solution for the Big Night In. To help explain this opportunity, here's a core range to consider - Joe & Seph's Popcorn - with insights from Adam Sopher, Co-Founder at the brand.
Affordable Food Luxuries

I joint found the brand along with my Dad (Joe), Mum (Jackie) and Brother (Paul). Whilst we're still a small family business, we've got lots of ambition and have grown leaps and bounds in our 11 years in business. We now retail over 70 flavours of gourmet popcorns and caramels, are the proud recipients of 65 Great Taste Awards and are stocked in big name stockists and independents.
Joe and Seph's was made for the 'Big Night In' – whether it's a movie night cuddled up on the couch, drinks in the garden or a dinner party indoors, our gourmet goodies span a range of flavours, from sweet, to savoury, to the unexpected, to really compliment any 'Big Night In' vibe!
It's been hard to ignore the massive impact Lockdowns have had on the British social life and it's certainly fuelled the trend of the 'Big Night In'. Whereas previously a Friday or Saturday night could be spent going to the cinema, the at-home Movie Night trend has really asserted itself as the new alterative – as people look for an at home way of boosting their mood with affordable little food luxuries such as Joe & Seph's popcorn.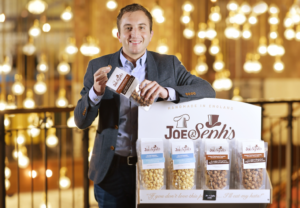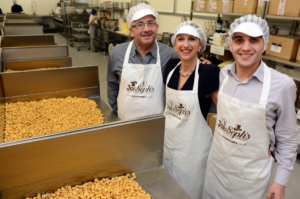 Appeal to the Big Night In Shoppers
We believe that our unique gourmet positioning makes us stand out as a brand, and the fact that we use only 100% natural ingredients seems to really engage with independent retailers in particular, who strive to offer the best to their customer base.
Our customers, just like us, are massive foodies, therefore we've planned to create a fully rounded customer experience by really focusing on both our 'Recipes' section on our website, as well as our influencer marketing strategies to get customers thinking 'beyond the pouch' and getting creative and inspired with their Joe & Seph's orders! We've already began to work with truly creative content creators to create delicious recipes our popcorn connoisseurs will adore and hopefully recreate for themselves at home, again feeding into the 'Big Night In' theme.
We've noticed a real increase in our online sales, as well as an increase in the number of online-based stockists we supply which has very much complimented the 'Big Night In' trend, as people look to treat themselves and others with delicious gourmet snacking goodies!
Without giving too much away, we are planning some amazing marketing opportunities to capitalise on the rise of the 'big night in' from which we're hoping to extend our offerings into a more extensive range of stockists. In terms of 2021 predictions, we're predicting a continuation in the trend of the 'Big Night In'.
Ordering Joe & Seph's with Epicurium
As experts in interesting snacks, you can get the best big night in snacks from the most innovative brands - including Joe & Seph's popcorn. With independent brands stealing a march on the more established brand names, driven by authenticity and quality. Now more than ever you need to become a go to destination.
With a quick turnaround of 24-48 hours, no minimum order number and free delivery on any order over £80, our team here at Epicurium can have you tapping into freshest healthy drinks in no time.