Healthier Profits, With Healthier Snacking
With more shoppers seeking healthier snacks, how can retailers support consumers? Find out some top tips from Grenade on how to boost your sales.
Guest Blog - Contributed by Grenade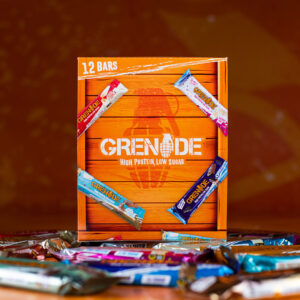 With 40% of adults in the UK now motivated to make healthier life choices1 and six in 10 consumers actively looking for healthier snacking to hit their fitness goals2, people are looking to find more convenient ways to satisfy their hunger and nutritional needs.
As a result, products that deliver on taste, while maintaining a healthier profile are becoming increasingly sought after. This is evidenced by the value of the healthier snacking market which has grown by 15% in the last 12 months, taking it to £148m3 and shows no signs of slowing down.
Healthier snacks can come in various formats, however becoming increasingly more sought-after are protein and energy bars. Not to be confused as the same thing, protein bars are often indulgent, tasty snacks, packed full of protein to keep consumers fuller for longer, whilst often lower in sugar than their typical chocolate bars to satisfy that sweet craving. Energy bars often have higher carbohydrates and act as a bridge between meals or often a replacement whilst on the go during a busy lifestyle.
---
Perfect range
With more shoppers seeking healthier snacks, it's important for retailers to provide a suitable range to cater for different needs and occasions. Accounting for 64% of the value of healthier snacks4 - and comprising the largest segment - are everyday treats, which encompass indulgent protein bars.
This fast-growing segment continues to accelerate, rising by 31% and, in the last 12 months, has now reached a value of £95m5.
Due to this ever-increasing popularity, indulgent treats such as protein bars, warrant the most space in a healthier snacking fixture. With individual protein bars achieving a cash rate of sale of over £5 per week6, they more than earn their space on-shelf and a varied range of best-selling flavours can be lucrative for a savvy retailer. With comparative cash through the till too many 'must-stock' confectionery lines, protein bars should be held in equally high regard as their chocolate counterparts.
Best-selling brands such as Grenade, Fulfil and Barebells, provide a range of mouth-watering flavours that are sought after and expected as part of these fixtures by consumers.
Besides indulgent treats, retailers should look to provide energy for their customers through a range of carbohydrate-dense snacks. These give shoppers needing an extra boost an option to choose a tasty snack to fuel their day. These complement a protein-rich fixture by providing an alternative to shoppers more focused on getting more from their day.
Finally, retailers should finish their healthier snacking range with naturally nutritious products. These are often nut-based products that are packed with natural ingredients, great for shoppers with a more conscious choice of what they enjoy snacking on.
---
Unmissable display
Having a considered healthier snacking range in-store is important. However, shoppers must be able to find the snacks they crave. Snacking is impulsive so it's vital retailers make space for their snacking fixtures where shoppers are walking or waiting. This can be at the entrance to the store, by the queue or on the counter. Having your snacking range next to your confectionery can give shoppers the choice of picking up a healthier alternative and, with healthier snacks generally having a greater margin, this offers a healthier boost to a retailer's profits.
"With healthier snacks generally having a greater margin, this offers a healthier boost to a retailer's profits"
Make your healthier snacking fixture unmissable. Use point of sale, such as shelf strips and aisle fins to signpost your healthier snacking range. Keep products well-stocked and organised to create a neat fixture that is easy for the shopper to navigate when impulsively selecting their snacks.
---
Innovation
Shoppers love NEW and it's important for retailers to follow trends and have exciting new products in-store. New formats, flavours and products give customers a reason to try something different and to come back to stores, looking for their new favourite. Keep a lookout on social media, in trade magazines and on Epicurium's website for the latest new launches. Also, speak to your fellow retailers for new products to try in-store.
Try new products where they can succeed, at the counter and in impulse locations within your store. If they earn their space, swap out poorer-selling flavours or formats to make space in your store for the new products.
---
sources
1 GOV.UK, Public Health England Survey, January 2021
2 Market Measures, Covid Recovery Tracker, January 2021
3 IRI Total Marketplace data ending 16th April 2023
4 IRI Total Marketplace data ending 16th April 2023
5 IRI Total Marketplace data ending 16th April 2023
6 IRI Total Marketplace, Total Protein Bars, Symbols & Indies, £ROS, 12w/e 16th April 2023
7 IRI Total Marketplace, Total Protein Bars, Symbols & Indies, 12w/e 16th April 2023
---
Ordering Healthier Snacking Products With Epicurium
To work with our expert team and curate a tailored product range designed to help you grow your business click here to request an account