Smart Solutions to Evolving Workplaces
When it comes to eating in the workplace, organisation-provided food options are somewhat of a double-edged sword. On the one hand, they bring people together, build relationships, and position organisations as great places to work. On the other hand, unhealthy food items can take away from employee well-being, increasing medical costs and negatively impacting workforce productivity.
Today's workers are a savvy bunch who understand the importance of healthier snacking on concentration, motivation and overall sense of well-being. It's time to improve the way you cater for your employees and colleagues.
Leading this charge is Express Vending - in particular, their Everyday Essentials service - have been a key partner alongside Epicurium for the past 5 years. Offering everything from Premium Coffee to Fresh Fruit …And everything in between! Of course, their go-to source of cool, healthier snack options has been us. 
The Everyday Essentials department is everything you could need in terms of office refreshments under one roof. Making life easier through full supplier consolidation; supplying a comprehensive and trustworthy food and drinks delivery service direct to the office, and eliminating the hassle of multiple orders. We sat down with Anna Mason who is a Senior Account Manager in the Everyday Essentials department and a foodie who loves trying our new snacks.
Solutions for Today's Employee
The COVID-19 pandemic has really brought home how important employee well-being is to employers. Based on research, many organisations across a wide range of industries are focused on plans that provide reassurance to their staff, ensuring they still feel connected and happy when transitioning back into the office.
Shared moments between employees act as key to engaging and retaining team culture, and food is one of the ways businesses can spearhead positive company culture, which is why over half of the respondents (52%) plan to provide food perks to their employees when offices reopen (The City Pantry Report March 2021).
For Generation Z employees the provenance, ingredients and health benefits need to be clearly communicated on the food and drink they're consuming in order for them to consider purchasing (Nestle Gen Z Cater the Future Report March 2020).
The Express HUB Micro Market is a revolutionary workplace refreshment solution. A hygienic contactless alternative to traditional catering which aims to increase employee engagement and productivity. By offering a broad and healthier product range, catering to all tastes and 24/7 access to quality food and drink, Express Vending has set the bar very high.
The HUB is simple to use and serves multiple people quickly, making it ideal for busy commercial premises. Crucially it serves a core purpose - staff can remain on-site limiting their need to head for the high street and avoiding the temptation of unhealthy snacking.
Changing Workplaces
Ultimately the aim has been to help workplaces keep staff on-site during breaks and mealtimes. We have been impressed with how Epicurium has enabled us to achieve this with our multiple clients. The increase in the health trend and the range Epicurium provides gives Express the chance to show that we lead the way in our sector"
With a growing culture aimed at encouraging and promoting healthier lifestyle choices, wellness in the workplace is fast working its way from a buzz topic to a required norm for prospective employees. The UK has long had a reputation for spending the longest hours at work, sitting down at a computer for hours and often reaching for unhealthy quick snacks between tasks rather than having time for a fully-fledged and nutritionally balanced meal.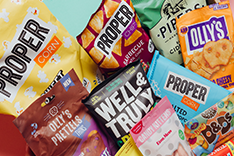 While in some organisations, healthy snacking is positioned as a major employee perk, some companies are falling behind and may not win the best talent when recruiting. Time to step things up in the workplace! Anna's advice for new clients is to start engaging with employees with initiatives such as Wellbeing Wednesdays and coffee morning sessions. 
"In future I'd like to partner with Epicurium and their brands to offer more taster sessions and showcase what it could be like in the workplace, holding talks with the team".
"Ask staff what they'd like to see and engage with them. Have fun choosing new brands and keep feeding their curiosity by giving them what's new and hot".
---
Trending Snack Products at Epicurium
Whether you are stocking up for a healthier snacking bay, or looking to develop your snack-box, a wealth of healthy and trendy snacks awaits! With a quick turnaround of 24-48 hours and no minimum order, click here to register an account with Epicurium.
---